Home » Services
We Provide a Full Range of Estate Planning, Probate & Elder Law Services
It is important to seek qualified professional advice when considering any of these services so that they will withstand IRS scrutiny while accomplishing your objectives. If you are thinking about estate planning services, please contact us (877.585.1885 or email)​ to schedule a free no-obligation consultation with one of our attorneys — or attend our free workshop — we will answer all your estate planning questions.
---
Estate Planning
Please Call Office for More Pricing & Details
877-585-1885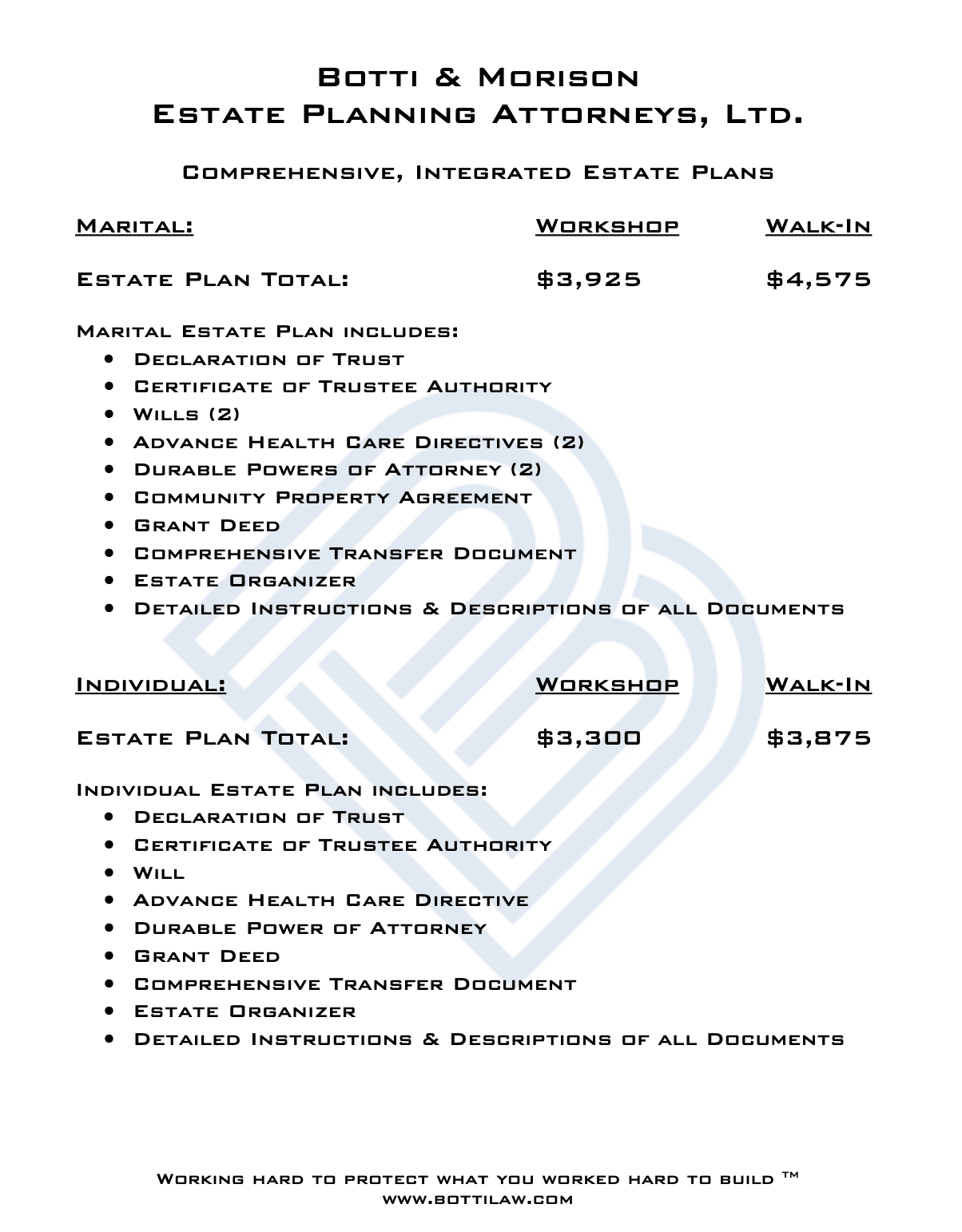 ---
Full Services
Beware of Trust Mills!
Did you purchase a living trust from an organization that you thought was a law firm? Here's how a "trust mill" works: under the pretext of preparing your estate plan, sales people from these companies obtain your personal financial information in order to use in advancing their hidden agenda: selling inappropriate annuities and other similar investments, most often to senior citizens. According to the California Attorney General:
"To give themselves a cloak of legitimacy, these sales agents pretend to be experts in living trusts. In their solicitations, these sales agents often pose as expert financial or estate planners. They pass themselves off as a "trust advisor," "senior estate planner" or "paralegal," and schedule an initial appointment with seniors in their homes. … They sometimes work in assisted living centers, churches and other places where seniors gather, hooking elderly victims through free seminars and other sales presentations. Seniors pay substantial sums of money to sales agents for living trusts, but sometimes, through fraud and deceit, the sales agents damage seniors' estate plans, and the security of their investments and life savings. … Planning an estate and choosing investments involve important legal, financial and personal decisions. If estate planning documents are not properly prepared or executed they can be invalid and cause lasting damage."
Does this sound familiar? If so, you should be concerned. You can view the California Attorney General's full warning concerning Trust Mills. If you have reason to believe that your estate plan was prepared by one of these companies, or if you're uncertain as to the origin of your documents, you should schedule a free consultation with us.